Tradewind Finance was delighted to attend the 2023 China International Fair for Trade in Services (CIFTIS), a global and comprehensive event for trade in services. Tradewind Finance not only shared valuable insights into global trade trends but also showcased its tailor-made trade finance solutions on this global stage.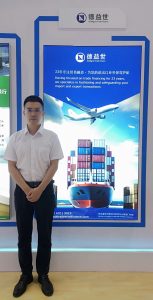 The state-level event was co-hosted by the Ministry of Commerce of the People's Republic of China and the People's Government of Beijing Municipality from September 2 to 6 in Beijing. The fair has attracted more than 1.7 million person-times of attendees and exhibitors from 195 countries and regions since it was officially launched.
Tradewind seized this opportunity to underscore its expertise in customized trade finance services and dedication to empowering small and medium-sized enterprises (SMEs). SMEs play a pivotal role in economic recovery but often face capital challenges when pursuing business expansion. With over two decades of experience in the industry, Tradewind has developed a flexible suite of trade finance services to meet the unique requirements of SMEs. This includes its global presence and on-the-ground support for local markets, making it a reliable partner for businesses looking to boost revenue in international trade.